DOP'S FIRST FRIDAY COFFEE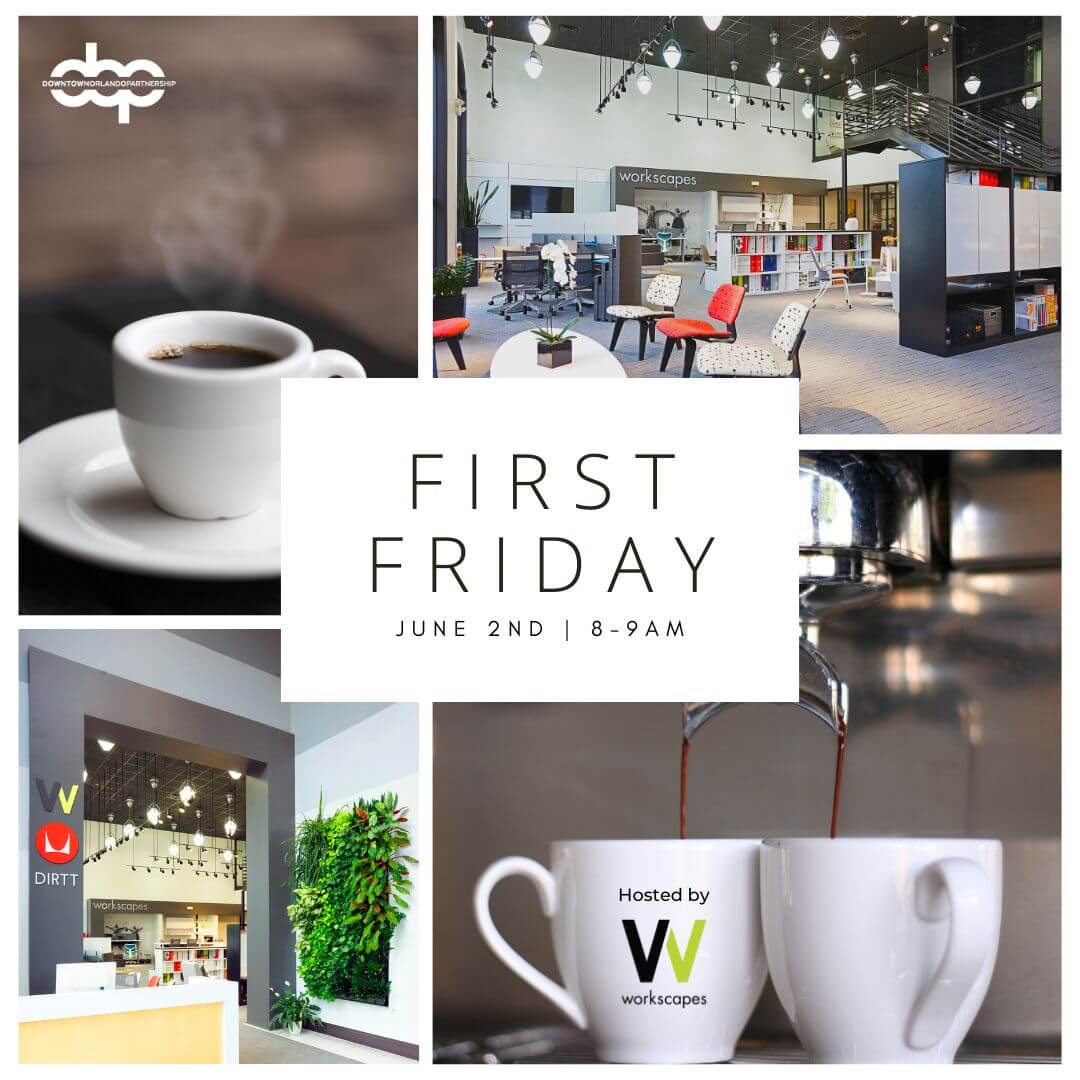 DOWNTOWN BUZZFree Parking in Downtown OrlandoThe City of Orlando's Downtown Development Board launched Park DTO, a new program that provides free parking and complimentary valet when visiting participating restaurants in downtown Orlando. The program provides convenient and greater access to all of the amenities in the downtown core, like exploring the city's world-class venues, embarking on an exceptional dining experience and enjoying the vibrant art and cultural offerings. The program aims to support small businesses and ensure their success in downtown, improve parking accessibility for downtown patrons, and encourage the preservation of downtown businesses by temporarily funding. parking fees, thus increasing customer experience and visitation. See a map of the designated area and learn more!Orlando Arts 25th Anniversary Public Art ProjectCalling all artists! United Arts is looking for proposals for five (5) unique temporary public art projects in celebration of 25 Years of Orlando Arts. This special project will showcase unique installations to illustrate the artistic talent in Central Florida and highlight the magazine's 150 issues. The temporary installations will be displayed in the Central Florida area from September 6 through November 6, 2023. The deadline to apply is May 30 and selected proposals will receive an award of $5,000! Click here to learn more and apply.OBJ's 2023 Diversity in BusinessGreater Orlando Sports Commission, Turner Construction Co., Esu Ma'at, Chief Diversity, Equity and Inclusion Officer, Orlando Magic, and Iranetta Dennis, Director of Supplier Diversity, Central Florida Expressway Authority, were all chosen as winners in Orlando Business Journal's 2023 Diversity in Business Awards. Congratulations to each of these DOP Members on this achievement!
DTO EVENTS & NEWSState of the City is Next Week!Orlando Mayor Buddy Dyer invites the community to his 2023 State of the City Address on Wednesday, May 24 at Harriet's Orlando Ballet Centre from 10:30-11:30am. Mayor Dyer's annual State of the City Address is a time to reflect on the city's recent accomplishments and to look ahead to what's next for Orlando. At the event, Mayor Dyer will highlight community partnerships, economic development initiatives and strategies to keep the city moving forward. He'll also outline key strategies to continue addressing community challenges. Please RSVP here by Friday, May 19th if you plan to attend the speech in person.Orlando Pride vs. Washington SpiritLooking for a fun way to spend your Saturday night? Catch the Orlando Pride's game against the Washington Spirit at Exploria Stadium from 7-9pm! It's also Pups of Pride Night, allowing guests to bring their furry friends along with them to watch the game. There will be a pup-centric pre-game Fan Zone, games, and much more! Get tickets here.OMA Florida Prize Exhibition Preview PartyCelebrate the 9th Anniversary of the Florida Prize in Contemporary Art at the Exhibition Preview Party on Friday, June 2nd from 6-10pm! Orlando Museum of Art's Preview Party will feature Orlando's most sensational restaurants and caterers presenting unique dishes inspired by each of the Florida Prize artists. Guests will also enjoy an open bar as they mingle with artists, explore the art, and immerse themselves in the best social and cultural mix. Proceeds from the event support the Florida Prize exhibition and OMA education programs. Admission includes priority access to the Florida Prize exhibition, an opportunity to meet and mingle with the artists, art-inspired culinary creations, open bar, and a live DJ. Click here to get your tickets!Juventus vs. Real Madrid Presale Starts NowReal Madrid will meet Juventus in Orlando's Camping World Stadium on Wednesday, August 2nd. The match between the two iconic global clubs is part of the Soccer Champions Tour and will be hosted by the Florida Cup, the Sunshine State's largest annual international soccer event. Your exclusive presale access starts now! Use code GOSPORTS and secure your seats before tickets go on sale to the general public tomorrow.