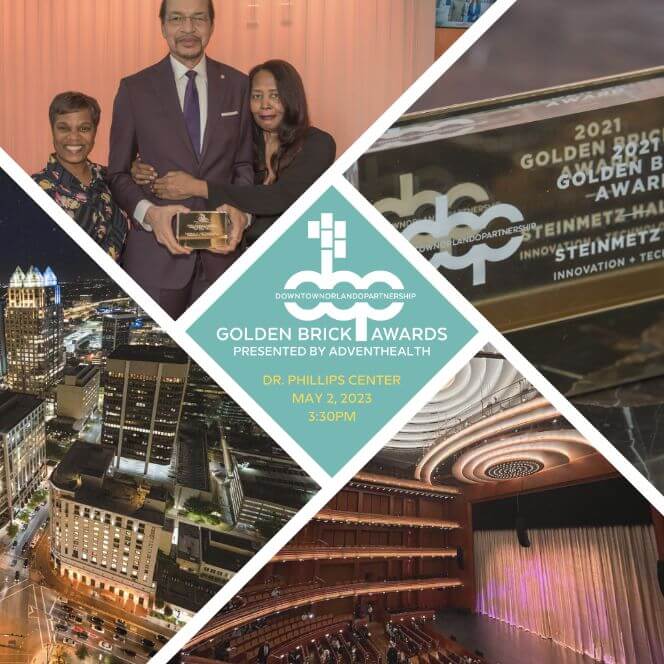 DOWNTOWN BUZZ
The Downtown Loop
Learn more about the design of the Downtown Loop — Orlando's Multiuse Trail at the upcoming design public meeting on Tuesday, April 18, 2023 from 5-7pm. The City of Orlando is working on designing the last couple miles of the Downtown Loop – a multiuse trail project that, when finished, will create a 8.5 mile loop through downtown Orlando. This exciting project will utilize a mix of sidewalk level and street level cycle tracks, as well as wide sidewalks along Washington Street, Magnolia Avenue, Pine Street, Osceola Avenue, Eola Drive and Summerlin Avenue. Click here to read more.
The Art of Commuting: ReThink Your Commute
Have you seen the new ReThink Your Commute poster hanging in local shops and businesses? Take a look behind the scenes at how it was made and the artist who created it. To help promote their program, reThink Your Commute enlisted the help of graphic designer and artist, Kelly Williams-Cramer. She is designing a series of artwork like the one below inspired by the vintage posters of the National Park Service. Click here for a brief video from the artist and more info on the campaign!
Orlando Magic Youth Foundation
The Orlando Magic Youth Foundation (OMYF) is committed to helping children in Central Florida realize their full potential, especially those most at risk, by supporting programs and partnerships that empower families and change lives. OMYF is currently seeking nonprofit organizations who would like to learn more about their grant process. Those who are interested are invited to join their 2023-24 Summer Grant Cycle virtual workshop on Monday, April 17, 2023. OMYF is proud to support the community for 32 years via 500 local agencies, over $26M in investments, and look forward to empowering many more during their next grant cycle! To receive more information and the link to participate, email lsanders@orlandomagic.com.
DTO EVENTS & NEWS
Unbelievably Real Mural Debut
In case you missed it, Visit Orlando and the Orlando Economic Partnership unveiled the new "Unbelievably Real" mural on the corner of Pine St. and Orange Ave. during 407 day on April 7th! Designed by Orlando-based artist Clark Orr, the mural brings to life how all aspects of the region shine, from tourism highlights, such as theme parks and outdoor water adventures, to the destination's drive for technology and innovation. This event was a perfect showcase of everything that makes this city OURlando. Click here to learn more.
James Beard Foundation
The Good Salt Restaurant Group is proud to welcome the James Beard Foundation back to Orlando for a special Chefs Highlight. Join The Monroe on April 19, 2023 at 6pm as talented chefs from all four Good Salt restaurants feature dishes inspired by the concepts that they helm as well as from their respective cultural backgrounds in a lively reception style setting. Also included are cocktails, spirits, wine and local beer tastings, desserts from the pastry chefs, and live music. Click here to see the full menu and get tickets!
Earth Day Work Day
Join Orlando Mayor Buddy Dyer and the City of Orlando for this year's Earth Day Work Day on Friday, April 21 from 11am-1pm at City Hall Plaza. Learn about green living and recycling at this lunchtime sustainability fair. Earth Day Work Day will also feature games, giveaways, music and more. Food and beverages will be available for purchase. Click here to learn more!
DOP Board Chair Elect, Justin Williams, Featured in Orlando Style Magazine
Justin Williams and his wife, Chahinaz El-Masri, are featured in this month's issue of Orlando Style Magazine. Justin Williams, the DOP Board Chair Elect and General Manager of The Grand Bohemian in downtown Orlando, is recognized for his passion for community and dedication to projects like Man Up mentoring, an organization that focuses directly on at-risk youth. He is also actively involved with Parramore Kids Zone, Black Bee Honey, and Jones High School. Justin's dedication for these causes and his community is evident through numerous recognitions such as the Diversity in Business award from Orlando Business Journal, ONYX Magazine's Men of Honor award, and the Orlando Magic Diversity Game Changer. Congratulations Justin! Read the full article here.
THIRD THURSDAY HAPPY HOUR