Women's History Month 2023 Quotes by DOP's Board of Directors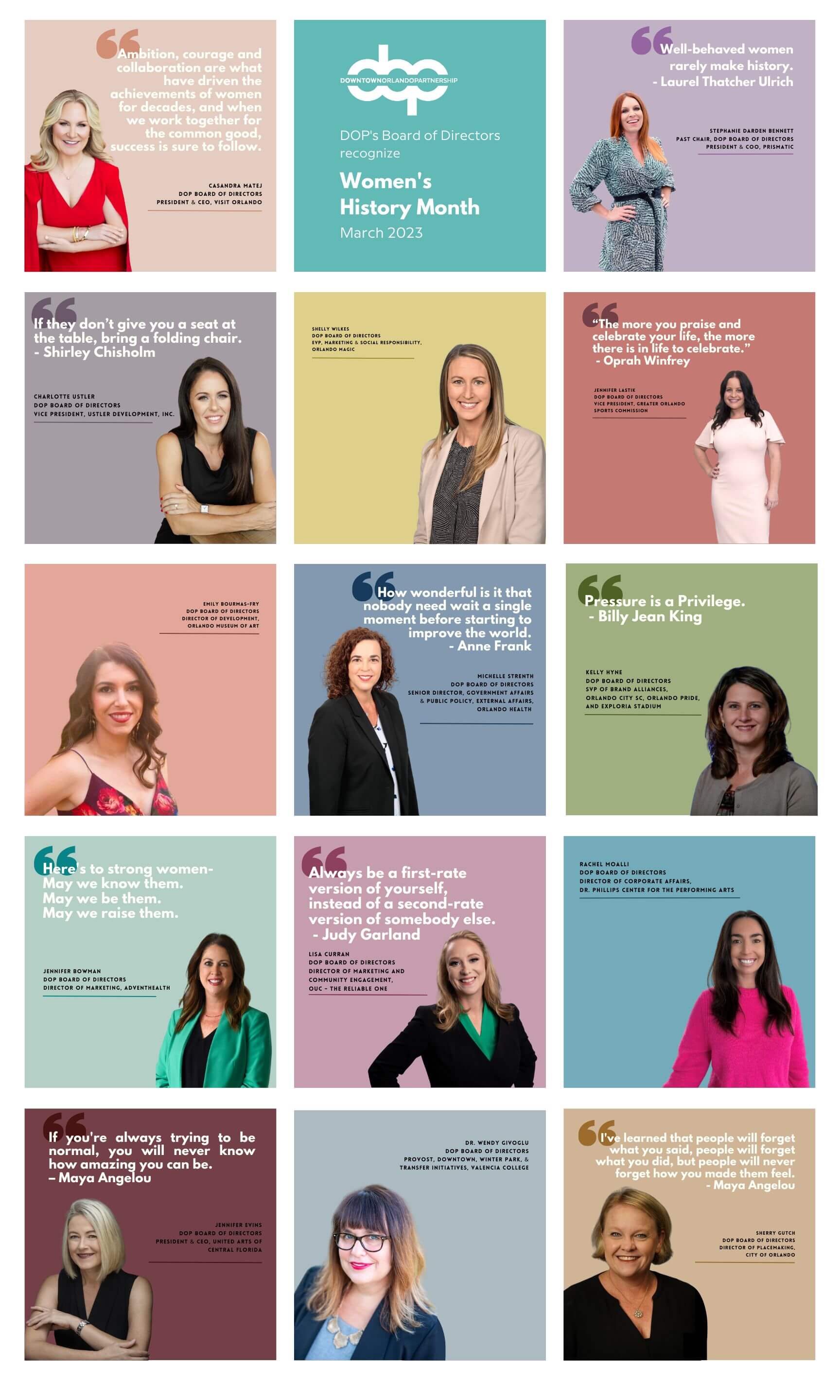 Women's History Month March 2023
Congratulations to Casandra Matej, OBJ's 2023 Businesswoman of the Year!
This week, Orlando Business Journal recognized the 2023 Women Who Mean Business – 22 female leaders in Central Florida who are writing their own personal career stories as they blaze their paths to success. DOP Board Member and President and CEO of Visit Orlando's Casandra Matej was recognized as OBJ's 2023 Businesswoman of the Year! Casandra has had a significant influence on the industry's recovery through her ability to forge partnerships, and goes above and beyond in her role to drive business success. Congratulations!
Women's Suffrage Marker in Downtown Orlando
A purple, white, and yellow sign paying homage to Orlando's role in the women's suffrage movement has been unveiled outside of the former Angebilt Hotel in downtown Orlando. The memorial at 37 N. Orange Ave. is the former site of the Rosalind Club, where the Federation of Women's Clubs voted to form the Florida Equal Suffrage Association, which pushed for women's right to vote. At the unveiling ceremony, former Orange County Mayor Linda Chapin, Orlando Mayor Buddy Dyer, Commissioner Regina Hill and Orlando Sentinel history columnist and author Joy Dickinson spoke about the meaning and significance behind the monument. The marker on Orange Avenue is part of the National Votes for Women Trail, which includes more than 200 markers across the U.S. It's one of 14 in Florida and one of two in Orlando, with another marker soon to be unveiled at the First Unitarian Church. Click here to read more.
(From left to right) Commissioner Robert Stuart, Commissioner Regina Hill, Commissioner Tony Ortiz, Jennifer Fritz-Hunter, Kathleen R. Russel and Orlando Mayor Buddy Dyer pose in front of the newly unveiled historic marker on Orange Avenue, commemorating the women's suffrage movement downtown.