CONNECTDTO 2023 IS ALMOST HERE!
Want an inside look at the businesses of Downtown Orlando? DOP's ConnectDTO offers an immersive downtown experience through in-depth educational sessions, tours, and a network of engaged urban leaders. Click here to learn more about ConnectDTO and enroll by February 3rd!
MEET THE 2023 DOP BOARD OF DIRECTORS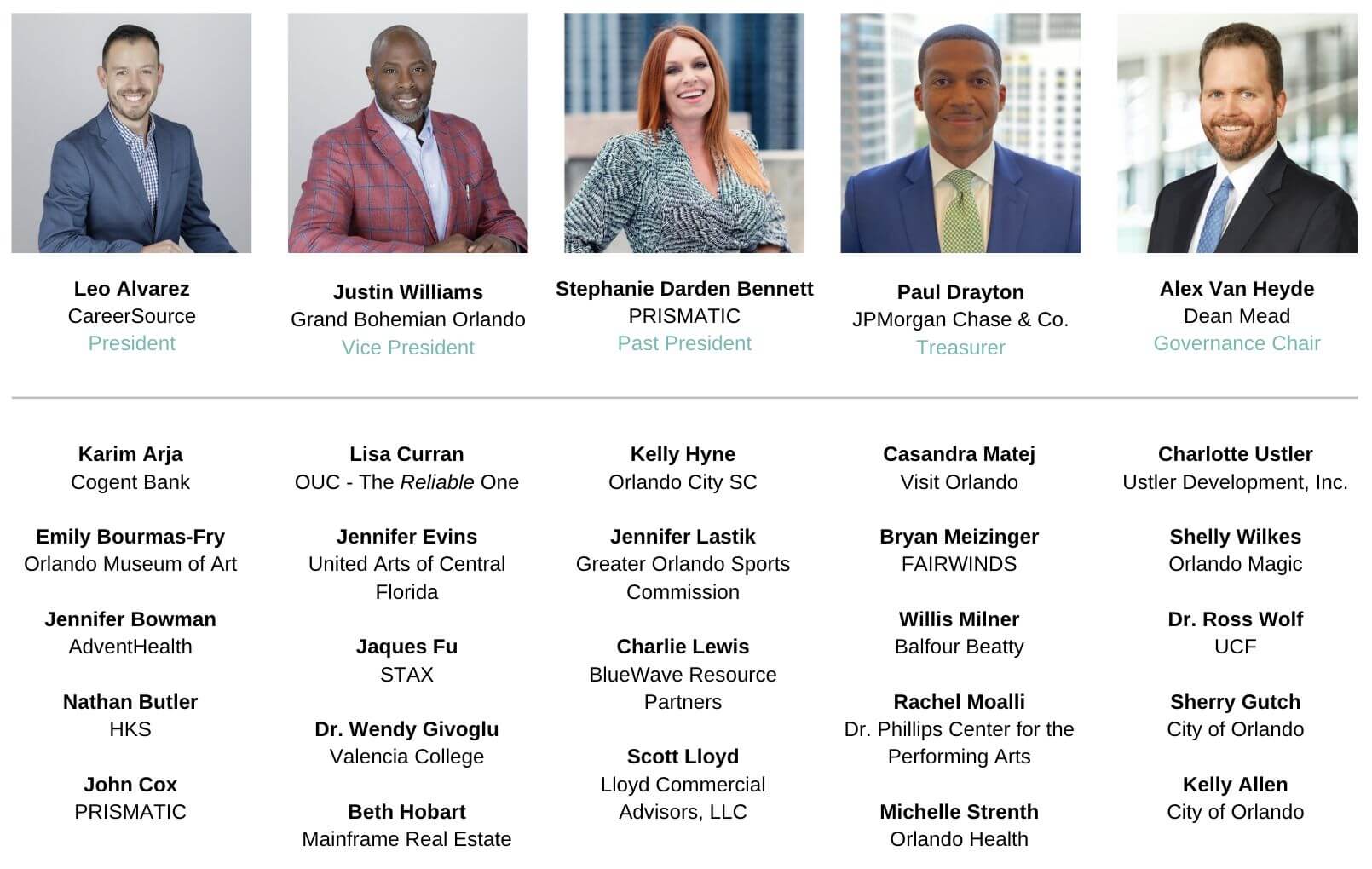 DOP'S FIRST FRIDAY!
First Friday returns this February the 3rd at 8am! Join DOP for coffee, pastries, and networking at e|spaces, hosted by Lamar!
DOWNTOWN BUZZ
Less than Two Weeks to Apply for the Special Event Grants Program!
The Creative Redevelopment Agency's (CRA) Special Event Grants Program supports diverse arts and cultural opportunities to encourage a variety of entertainment within the area. The purpose of this program is to provide funding through grants to support events that promote the goals and objectives of CRA's Redevelopment Plan for the area, the DTOutlook. Events held in the downtown area serves to bring together a wide variety of people, both locally and nationally, to experience engaged programming that will help to build social connections and strengthen the economic development of the area. Applications are now open for events taking place between May 2023 - October 2023. Applications will close on February 1st at 11:59pm. Click here to read more.
Aloft Live! Music at Aloft Orlando Downtown
Join Aloft Orlando Downtown at their WXYZ Bar for an evening of live music this Friday, January 20th from 6-9pm. This free event is open to the public and will feature a great variety of live local musicians, including Rick Krasowski. Save your spot here!
TNT Launch Party!
TNT, which stands for Trying New Things, is the community for the most innovative, ambitious, and creative minds in Orlando to connect, celebrate success, collaborate and advance their startups. At the launch party, held at Serendipity Labs Orlando on January 26th at 5:30 pm, guests will network with other entrepreneurs and professionals while celebrating our launch with drinks, appetizers, an exciting keynote, and some speed-pitching. Click here to see the event details and RSVP!
DID YOU KNOW?
MLK Night at the Orlando Magic
The Orlando Magic honored Dr. Martin Luther King Jr., his life and legacy, by volunteering each day this past week leading up to the in-game celebration on January 20th when the Magic will host the New Orleans Pelicans. In-game festivities include he Magic to honor City of Orlando Mayor Buddy Dyer's MLK Youth Humanitarians and the Mayor's MLK Commission members, interactive MLK trivia, remembrance videos, and much more. Click here to read more and get your tickets for tomorrow's game!
Past and Present: Historic Orlando
The Orlando Public Library will host author Elizabeth Randall this Saturday, January 21st, at 11am for a history of Orlando's historic structures and landmarks. Photographer Bob Randall will also be presenting the challenges of replicating historic photography. Books will be available for sale and signature after the talk. Click here to read more!
Fringe ArtSpace is Officially Open!
After a successful Grand Opening and Winter Mini-Fest, Fringe ArtSpace has opened its doors to the public and begins their first ever season of programming with Varietease's "Genesis" from January 26-29. VarieTEASE is an Artistic Entertainment Group that has been changing the fabric of Arts Culture in Orlando for 20 years. Founded by BlueStar in 2002 as babybluestar productions, this all inclusive company has been pushing boundaries though Dance, Music, Live Sound, Aeriel Arts, Music and Choreography to sound tracks that linger for years and years. Buy your tickets here!