SAVE THE DATE
2022 State of Downtown, presented by OUC, The Reliable One
December 7
3:30pm
Luminary Green
Ticketing details to follow.
DOWNTOWN BUZZ
Corridor and Cenfluence Lunch & Learn
Learn how industry clusters are unleashing our region's expotential at the Corridor and Cenfluence Lunch & Learn, presented by PRISMATIC, on Wednesday, November 2, 2022, from 11:30am - 1:00pm at the UCF Downtown Campus Moot Courtroom. The leaders of Florida High Tech Corridor and Cenfluence will explain how they collaborate to help power the tech economy within a 23-country region that encompasses UCF, USF, and UF, and what this means for Orlando's future. Learn more and register here!
Airplay Begins this Weekend
Creative City Project's Airplay presented by Orlando Health begins this Saturday, October 8, 2022. Explore immersive, inflatable art like you've never seen before at the Seneff Arts Plaza at the Dr. Phillips Center. Airplay includes interactive, inflatable art installations and a Luminarium from Architects of Air. Get your tickets here!
NCAA March Madness Ticket Presale Opens Today!
March Madness is coming to Orlando in 2023! Your exclusive opportunity to purchase seats to the Big Dance is here. The presale begins Thursday, October 6, 2022, before they go on sale to the general public on October 8th. The all-session tickets allow you to catch all the action of the 4 first-round games and the 2 second-round games! Use the code GOSPORTS to unlock your tickets here!
Orlando City Decision Day is this Sunday
Orlando City SC closes out the 2022 regular season at home on Decision Day against the Columbus Crew on Sunday, October 9th at 2:30 pm. Cheer on the Lions at Exploria Stadium as they look to clinch their third straight playoff berth. Tickets start at only $19!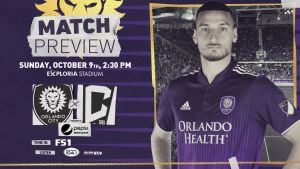 DID YOU KNOW?
Project DTO 2.0 Needs Your Engagement
Project DTO 2.0 is a year-long effort which started in early 2022. The Downtown Action Plan (Project DTO 2.0) takes on those big, transformational ideas and casts them into implementable strategies and concepts. The plan is focused on driving actionable changes to the streets, civic spaces, mobility options, and neighborhoods to promote a thriving downtown. Read the full DTO Vision here and get engaged in the project here.
United Arts Golf Tournament
United Arts of Central Florida is hosting a Golf Tournament on November 14, 2022, at 9am at the Golden Bear Club. Players and sponsors benefit local professional artists in Central Florida through the United Arts Individual Artist Program. This program will focus on supporting and cultivating individual artists in the Central Florida region. It will enrich the local community by helping these artists create even more innovative and diverse experiences. Click here to learn more and find out how to be involved!
Alta is Making a Huge Impact on Central Florida
One of Charlan Brock Architects' projects, Alta, is a transit-oriented development at the core of AdventHealth's Health Village, an emerging healthcare and life sciences innovation district near Downtown Orlando, Winter Park, and Mills 50. People who live and work in the Health Village have easy access to many great walkable neighborhoods throughout Greater Central Florida by Sunrail, which is Central Florida's rail transit system, as well as the Lynx bus service and the Orlando Urban Bike Trail. These features enhance walkability and transportation access, which in turn reduces the pressure of infrastructure costs and creates better, healthier, more sustainable communities. Alta at Health Village is one of seven in a network of CBA-designed communities that support and utilize the SunRail, which is something that CBA is very proud to be able to contribute to. Find out more about Alta here.
AdventHealth is Recognized as the Best Cancer Care in Greater Orlando
U.S. News & World Report has recognized AdventHealth as providing the Best Cancer Care in Greater Orlando. From 3D mammography and genetic testing to a world-class, multi-specialty care team, AdventHealth offers the leading methods for early detection of breast cancer along with the most advanced treatments. And, with comprehensive support groups and survivorship programs, we're here for patients in body, mind and spirit. To learn more or to request an appointment, visit LeadingBreastCare.com.