Are You Coming to First Friday?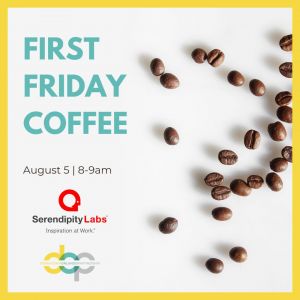 Join DOP on August 5th at Serendipity Labs for First Friday Coffee and connect with the Downtown Orlando community. Members and non-members are welcome.
DOWNTOWN BUZZ
NASA Selects UCF for $35 Million Mission
NASA tapped UCF's dynamic duo, planetary scientists Kerri Donaldson Hanna and Adrienne Dove, to lead a $35 million science mission that will land a spacecraft on a part of the moon never visited before — the Gruithuisen Domes. The domes, located in the western portion of the Imbrium basin rim, remain a mystery to scientists. Flyover data from previous missions indicate that they are made of silicic minerals — rock hardened from cooled magma. On Earth, the closest comparison may be Mount St. Helens. The volcanic features appear to have large concentrations of heat producing elements, which could potentially be used for resources for long term exploration of the moon. The robotic mission would launch in 2026 to study the domes' chemical composition and how dust interacts with the spacecraft and a rover. Read the full story. 
African American Chamber Hosts 3rd Annual Business Empowerment Conference
The AACCCF's Empowerment Luncheon was designed to engage, enlighten, and empower attendees through a series of inspirational keynote speakers. Past speakers have included luminaries from professional sports, the arts, business, and government. This year the chamber is hosting the AACCCF 3rd Annual Empowerment Business Conference presented by Wells Fargo. The conference builds upon the success of their annual business conferences in 2019 and 2021. The event will occur on Friday, August 19, 2022, at Full Sail University. RSVP today.
 
Orange County Utilities Job Fair
The Orange County Utilities Department will be hosting a Job Fair this coming August 4th from 9:00 a.m. to 2:00 p.m. 
All experience levels are needed. 

Several positions qualify for a $1,000 sign-on bonus

Competitive benefits include: 

10 paid holidays per year

18 paid personal days per year

Low-cost medical, dental, and vision insurance

Employer contribution to Florida Retirement System

And much more!
DID YOU KNOW?
AdventHealth Named #1 Hospital in Greater Orlando
AdventHeath was named the #1 hospital in greater Orlando by U.S. News & World Report for an unprecedented 12 years in a row. As the only nationally ranked hospital in Orlando, they have been recognized as the gold standard for Orlando's best Cancer, Diabetes and Endocrinology, Gastroenterology and Gastrointestinal Surgery, Neurology and Neurosurgery, OB/GYN, and Orthopedic care.
Back to School Sales Tax Holiday
The back-to-school sales tax holiday is July 25 - August 7. Qualifying items at Discover Downtown will be exempt from tax including t-shirts, ball caps, and crayons. Qualifying items are 25% off in-store and online with promo code SHOP25. Shop now!
 

 Orlando Story Club Upcoming Dates
Orlando Story Club is a live storytelling competition that takes place at CityArts Orlando (39 S Magnolia Ave). Every Orlando Story Club event has a theme. Anyone with a story that fits with that theme can enter by putting their name in the story hat. Ten names are drawn at random. Each storyteller is given 5 minutes to impress the audience, and the top 3 tellers take home prizes. It's a night of laughter, fun, and connection! Join CityArts for their not-so-serious storytelling competition! Learn more.